December is flying past us. By now we're all surrounded with twinkle lights and gift lists, Christmas carols and flurry, holiday goodies and party plans.
But sometimes in the busiest seasons our Heavenly Poppa reaches down and whispers something special.
For me it's the word, "receive."
Like a soft whisper on the wind, this word follows me lately.
When I first sensed it, I thought, "That's odd. This is the season for giving, isn't it?"
"Receive" can seem like a selfish word — like a little child, overly excited about opening her own presents, never giving a thought to anyone else. For us responsible, committed adults, the word, "give", is the true mantra of Christmas. Give presents. Give cheer. Give goodies. Give love. Give comfort and joy.
I mean, isn't that what Jesus did when He came to earth — gave of Himself? Isn't that the very thing we now celebrate 'mid the flurry and frost?And of course the answer is yes. Jesus came to give comfort and joy, peace and hope, and love and forgiveness to a world desperate for it.
But sometimes we responsible people can get so caught up in "doing Christmas" we forget it's about His gift first. Oh, we may stop and thank God for His Son's birth. We may sing the carols and mean them. We may read the Christmas story and remind ourselves "Jesus is the reason for the season."
But how often do we take the time in the middle of the flurry to open our hearts and remember our ongoing need for His love and grace?
A RETURN TO THE BEGINNING
This Christmas season God's taking us back to the beginnings of great grace. To a tiny manger in a cramped stable. To a moment when He gave His most precious love gift in the form of a tiny baby.
And I find myself sitting right there, contemplating how much I still need — and crave — His love every single day.
It's like God paused life for a minute to let me remember the one thing that matters most — receiving His love and grace first.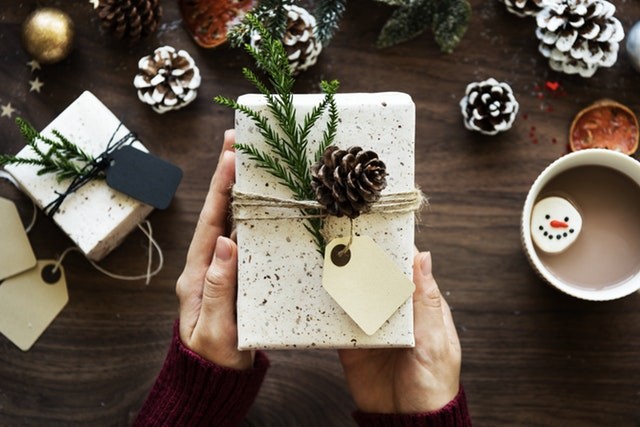 And though our hearts may desire to give,
though we might always do Christmas a certain way,
even though the season might be primed for gift giving and serving . . .
We never give something well until we've received it first.
We can never share the depth of God's grace until we've deeply experienced it for ourselves.We will never overflow in unconditional love for others until we've felt it in our own souls first.

And for those of us who have already accepted God's gift — who know Jesus personally as The Way, The Truth, and The Life — Christmas is the perfect time to re-remember this in our hearts. To let His love seep in in a fresh way.
12 DAYS OF CHRISTMAS GRACE in 2017
That's why this year's 12 Days of Christmas Grace is all about the word, RECEIVE.
It's a chance to pause in the middle of the beautiful crazy that is the holidays and ask, "Where can I see, hear, and touch God's great love for me right this minute?"
Won't you join me in sharing God's little love moments?
Starting Wednesday, December 13 I'll be posting on Instagram and Facebook for 12 Days of Christmas Grace, and I hope you'll join in!
Each day we'll look at something ordinary in our lives in search of the Great Love behind it. The goal is to notice where Great Love has reached down — not just for Christmas — but in an ongoing, forever kind of way. And to take that love and hold it in our hearts, receiving it fresh, and letting God show us just how much He loves us.
I've made an easy-to-follow calendar with a prompt for each day so we can explore God's love and grace together.
Download the 12 Days of Christmas Grace calendar
Won't you join me for a few minutes each day till Christmas? Post your own God story or quick thought in answer to that day's prompt. And use #12daysgrace so we can delight together in where God's love shines brightly!
My heart has already been stirred as I prayed through the prompts and thought about the importance of receiving this Christmas.
My prayer is for each of us to be open to receiving what Poppa so freely gives and for Him to solidify His love in new ways in our hearts this Christmas!
Merry, Merry Christmas of love and grace to you!