It was a gorgeous day – the kind of day that begs to be enjoyed. The sun shone brilliantly and all of the trees in the front yard beckoned in the breeze. This was the kind of perfect Saturday people pray for, and I'd been hoping for this day for a long time.
Oh, I had big plans–plans I'd been making for days. Plans to conquer and create. Plans to let the clock run unheeded. Plans to be outdoors from dawn to dusk. My eager anticipation had reached the epic heights only an 8-year-old mind can envision.
But sadly, on this oh-so-perfect day, instead of climbing trees and conquering imaginary foes, I was curled up on my favorite blanket in the hallway by the bathroom. I'd caught the flu and was feeling so yucky, all I could do was lie on the hard wood and wish for tomorrow.
In between groans, a song lyric drifted to my ear from the little tape recorder beside me: "and life shatters all my dreams." I got a little teary-eyed because my 8-year-old heart felt like it knew what that meant. My big dreams for a perfect Saturday had been dashed to pieces by a horrible germ, and I'd never encounter another day quite like this one (at least not for an eternity of school days). My hopes and dreams lay in tatters around me.
Little Kids to Big Kids
Feel free to giggle at the drama 8 year old minds concoct. Isn't it interesting that even as kids we understand truisms? It doesn't take long to smash headlong into the reality that life has a way of crushing hopes and shattering dreams.
And as adults, life is full — even the sick days. We're overwhelmed with schedules and family and work and house and life. But in the rare quiet moments when the dust settles and you're alone with your thoughts, do you ever wonder:
Why does my hope feel a bit lifeless lately?
How did that dream wither & die?
What do I do with this part of my life that desperately needs new life breathed into it?
We might ask these questions many different times in our lives.
Bringing Things to Life
The best news in the world begins with the resurrection . . . but it never ends there.
Resurrection is the central tenet of the Christian faith. And it isn't something we just celebrate on Easter. Resurrection is something we celebrate every day in every way.*
We belong to a God who "gives life to the dead and calls into existence the things that do not exist" (Romans 4:17). He did it with Jesus. And He does the same with the dry, crackly bits of our lives too.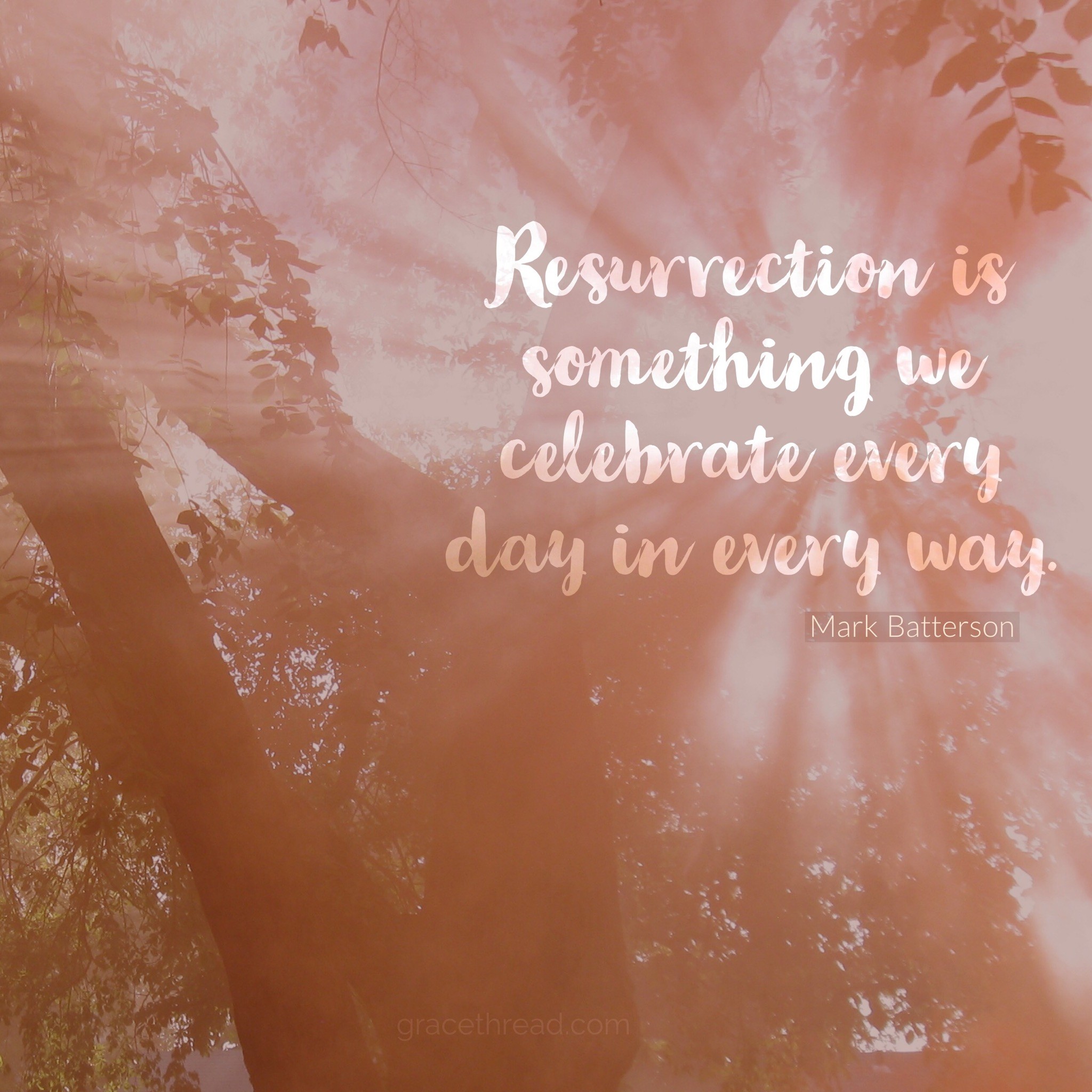 New Life . . . for Easter and Beyond
This weekend as we celebrate the death-defying, glorious sacrifice that Jesus made . . . as we think on the temple veil being torn in two, granting us complete access to the Father . . . as we wipe up the colorful dye, baste the ham, and hide the bulging plastic eggs, let's
pause in gratefulness at the empty tomb.
Let's shout a little because it's empty on our behalf. Let's shake our heads in wonder at forever and ever and ever eternal life. And let's let out a "woo hoo!" at the grand reminder that God is still in the bringing-things-to-life business!
His promise of more life continues far beyond the Easter celebration–from April to August and beyond.
Ways to Keep a Resurrection focus
Here are three simple ways to face everyday life with a resurrection focus:
1) What dream will you ask Jesus to resurrect for you?
2) Where do you need to trust God's power to bring something into existence now, not in three or four Easters?
 3) What promise do you want to thank God for fulfilling, even if your five senses haven't seen the evidence just yet?
Happy Resurrection Day LIFE to you!
*quote from The Circle Maker by Mark Batterson