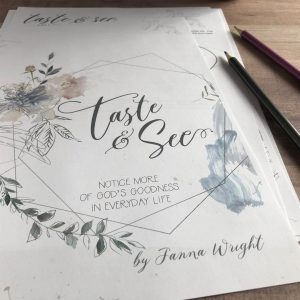 Do you ever notice how life has a way of chipping away at our confidence
in the goodness of God? Do you sometimes wonder how to keep trusting Him
when the doubts, sorrows, and disappointments pile up?
COMING SOON!
The Taste & See Journal is a perspective-shifting journey into a deeper understanding of who God is and what His heart is toward us. As you dig into the truths of Psalm 34:1-8, you'll meditate on His character and record your own stories of how He is active and present in your life right now. The journal includes heartfelt devotionals on each verse, guided journal prompts, personal stories from the author's life, and even a section for taking this special journey with a friend. After all, an experience as delectable as God's goodness, is twice as wonderful when shared!
Come taste & see God's goodness,
and awaken to fresh hope and joy,
right in the middle of everyday life!
audio/video teachings
This page is where you'll access Janna's verse-by-verse teachings that correspond with the upcoming Taste & See Journal. Launch Day is coming soon. So stay tuned for more fun resources coming soon!